Lying on the bank of the Qingshuijiang river, Tanglong is a Miao village in the town of Shidong which is 81kms away from Kaili and 38kms from Taijiang, the bus trip from Kaili is 2 hours, 1 hour from Zhenyuan.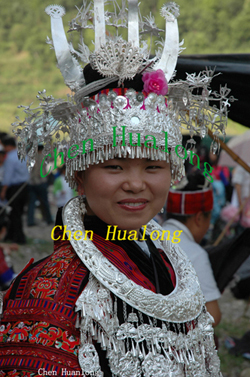 Tanglong is the hometown of Miao silver smith, Many families in Tanglong have been practising the skill of making silver ornaments for many generations, and men are engaged in the technique, women help with the men's work. Their products are sold to nearby Miao villages which is so called " Shidong style Miao" due to the location, there are totally some 40 villages of this branch.

  Silver ornament is very important for Miao women, it's the same to the Shidong style Miao women. So during the Sisters' meal festival, the girls of here dress their finest embroidered jackets and gorgeous silver ornaments joining the festival so as to show their beauty and wealth. You may see some girls even wear 4 or 5 necklaces which reach their noses.

  The variety of silver ornament of Tanglong is so rich, there must be more than 40 kinds such as silver horn, silver crown, silver necklace, silver hairpin, silver earing, silver bracelet. The patterns are from flowers, dragons, birds, fish and their oral legends. Every pattern has a meaning can tell from.

  The Miao of Tanglong also spend the Dragon boat festival on the fifth lunar month, during the festival, dragon boats are rowed on the Qingshuijiang river, Miao girls are also in festival dress to join the festival.

  I once asked a silver smith from Tanglong where you get mercury to make silver ornaments, we got it from Hunan, there were mecury mines, said the smith.

  The embroidered jacket of women from Tanglong is fabulous, the split stitch is outstanding, so you may ask your guide to arrange silver making and women in festivals for pictures when you have chance to visit the village.