Chong'an is a very small town, 12 miles away from Huangping. However it's a good base for exploring the nearby region.
  In the town, a good place to go is the Three dynasty bridges, it just takes about 10 minutes to walk from Xiaojiangnan resturant in the town. The three bridges were built in three differentdynasties, one in 1873 in the Qing dynasty, the other in 1942 during the Anti-Japanese war, the last one is in 1996, and the bridges make a good picture on the Chong'anjiang river, hence an unique " bridge museum".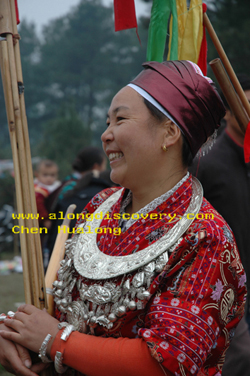 There is a group of old mills on the Chong'anjiang river near the town which still be used by the local people, this is a must visit. You can't get to the mills, but you can take pictures from the highway.

  There is a market every 5 days in the town, on the market, you could see Miao and Gejia women in traditional costume go to the market, some sell vegetables and domestic animals, some buy articles they want, the market is interesting, and it's worth a visit when you are in Chong'an on the market day.

  The Shiny cloth Miao and Gejia live nearby the town, and some villages are worth visiting such as Wangba, Yaozhai, Fengxiang and Xinzhai, but people need to walk some distance to those villages. The Gejia is a questionable nation, now have a total population of 50 thousand, and they only live in Guizhou province, they make the concentration in the towns of Chong'an, Chong Xing, Huangpiao in Huangping and Longchang, Wanshui of Kaili. Many scholars believe the Gejia is a branch of the Miao, but the Gejia people say they are Gejia, not Miao. I myself regard them as a branch of the Miao, because the village life looks similar to the Miao, also their costume has the similar feature as the Miao, the festival dress is colorful and decorated with silver ornaments as the Miao. The most important reason is that I could understand a few words of them, because I'm Miao from Langde village.
  The Gejia has a long history. It is said that the Gejia are the decendents of Houyi-a legendary man who was brave and has shooted the nine scorching suns so as to save the people. There are many stories about the war between the Gejia and the other tribles, so Gejia women and men's costume always shows the features of wars.

  During the first lunar month, the Gejia get together celebrating the " Caiqing" festival. On the festival ground, Gejia women wear beautiful and colorful festival dress. Women wear batik scarf, silver necklaces, pleated skirt, apron and leggings, Gejia boys play Lusheng, the other acitivities include bird fight, antiphonal singing.