Guizhou Festival Tours
  Guizhou is a lesser known place where there are lots of interesting tribal festivals with numerous ceremonious activities and celebrations. When you are tired of making the traditional popular golden tours of China and find nowhere to go, Guizhou will be your best choice where you will see traditional festivals,local women in gorgeous embroidered dress or batik dress, indigo dyed dress, fiber dress come to join the festival, you also can explore textiles at some places.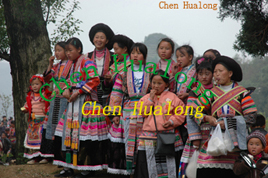 Along accepts the following Miao festival tours to Guizhou every year, these guizhou tours are very interesting and attractive. They may not exist some years later, so now it's the time to see the festivals. My tours can be flexible according to your requirements or when we come across something interesting happend on the way such as markets, weddings, festivals or funerals.
  Along-Tony is the most experienced tour operator and English-speaking guide for Miao festivals to rural areas of Guizhou, he will offer you the most interesting tour, the best guide service, the best meals and accommodation at each city if possible, the best driver with a reasonalbe price. You may choose any tour of the following due to your travel time. If your time does suit to those tours, just write to Tony, he has more festival tours including trips to see Buyi festivals and Miao costumes. of course Miao festival tours are the top recommended tours for Guizhou travel.
  ---Why not to travle with an experienced Miao expert to see Miao festivals?