Zhenxianyang Museum
  When you have more time in Guiyang and you can not find anything interesting, there is one interesting place, it is Zhenxianyang museum-a Miao costume collection museum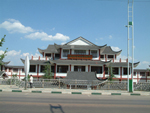 Zhenxianyang museum is located in the Beiyun park which covers an area of 2831square meters. The museum has three floors, 7 halls displaying Miao costume and the related information. The first floor displays Miao costumes and the other ethnic group's costume. The second floor focuses on Miao silver ornaments and Miao embroidery techniques. On the third floor, you may have a chance to experience how to learn those techniques such as traditional weaving, making a braid, wax printing, silver-making.

  The museum has collected a lot of best quality and old Miao costumes and works of embroidery, batik and the like in which you may find many legends and meanings, that probably could give you a little help to find out the original civilization of China.
About the collector
  As a Han, Mr Zhenxianyang was born in Guiyang in 1941. He is a famous collector and senior photographer of Guizhou. He was one of the representatives of Guizhou Miao culture.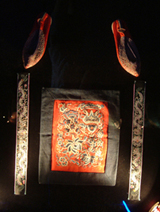 Since 1976 as a journalist photographer, Mr Zhen has traveled all around every remoted regions of Guizhou, and he took a great deal of cultural and anthroponomy pictures. He started to collect Guizhou minority costumes in 1976, the majority of the best quality costumes is Miao costumes.

  Mr Zhen has collected nearlly 5000 works. Now most of his works became a procious treasure which can not be repulicated, and his collection has never been lost to the other collectors' hands. Mr Zhen also published many works such as "Miao Custom of China", "Miao Dress", "Old Traditions of Guizhou". He won a lot of praise and great attention from the community both at home and abroad.
How to get there and related information:
  15km away from the downtown of Guiyang city.
Entry fees: 60RMB/person
Open time: 09:00am-12:00am, 13:30-18:00pm, Closed on Tuesday for a rest.
Add: 3 Jinyuan Road, Beiyun District, Guiyang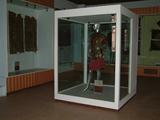 You may take the No 60 bus at the railway station, the No 70 bus in Dayingpo, the No 236 bus in Hebing Partk to get to the museum. Or the you may take a taxi from Guiyang, it's about 60-70RMB. If you make the tour with the local travel agency, you can go there by private car or bust.
Along discovery's opinion:
  The museum is excellent, it's worth a visit if you like Miao culture and costumes