Long Skirt Miao Region Eco-Hiking Tour
Southwest China Tour, Guizhou Travel Guide
Description of this Guizhou tour:
  There are several branches of Miao in Leishan county, they are Long Skirt Miao, Short Skirt Miao, Silk felting Miao and Hundred Bird Miao, they are also called Xijiang style Miao, Taojiang or Datang style Miao, Qiaoshang style Miao and Gongtong style Miao respectively due to the centre location. These Miao live on high mountains or valleys where there are spectacular terraced fields and beautiful rivers. They had arrived this region 500-800 years ago, and cultivated the area till today, thus created rich culture and brilliant civilization. High quality embroidery on women's holiday bests represents these Miao women's talents and wisdom.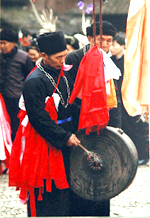 This tour gives you a chance to walk through those Miao villages, stay at farmers' home, experience their village life, I also invite a local Miao to lead our trip at some places. The villages we walk throug are Long Skirt Miao villages, they stay in wooden houses on stilts, domestic animals are raised and stored on the first floor, and people stay overnight on the second and third floor.

    In Upper Langde village-my village, you will hear ancient Miao folk stories about the Miao's ancestors told by local old men. You also can join some agriculture activities if the season possible, so you will see another different world where people work hard, they have a poor life, but they enjoy a happy life with their community, they help each other when harvesting rice, transplanting rice seedlings, building a new house or hosting relatives on the occasions of wedding or funerals.

  However, with the economy improved, people's life is starting to affect the mother nature, many trees are cut down. More and more young girls and boys left their homes to work hard as a laborer in cities to expect a new life, just less people are willing to stay in the village and engaged in agriculture, they mainly are the old and young kids, some rice fields are empty, and on one cultivated. People are starting to produce trash, especially many young Miao girls are not willing to spread and inherit their mothers' embroidry skill, thus this ancient and gorgeous culture might be going to die many years later.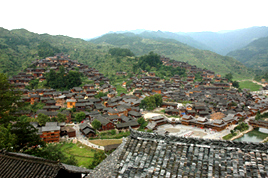 The WTO has carried out a project called "Countryside Travel" in Leishan and Kaili along the Bala river so as to help improve the neaby Miao villages' economy and preserve their culture since a few years ago, and it made some progress, however, many remote villages are still very poor due to poor transportation and other many reasons.

    Our goal is not only to see their culture, experience their village life, but also to encourage them to preserve their culture, protect their nature by purchasing their textiles, telling them the consciousness of protecting the environment and less producing pollution. We also can donate to the villages or primary schools to help some top students whose families have financial problem with education.
Group size: 1-16 pax
The group can be 2-16 people, not more than 16 people.
Suggested travel time: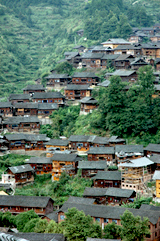 It's more proper to make this tour during Late March to November, the Miao in this region spend the annual Miao New Year on the tenth lunar month which is usually around the middle of November, during the fetival, there will be many ceremonious activities such as Lusheng playing, Bronze drum beating, so a tour to come across the festival is a good idea.
Itinerary:
D1 Arrival Guiyang airport in the afternoon, drive to Kaili directly. Kaili is the capital city of the Southeast Miao and Dong autonomous region. Stay in Kaili(4star)

D2 Kaili-Langde
  Drive 1 hour to a place, then we start to have a 5 hour hiking trip to Upper Langde, we will walk through some Miao villages en route. Langde is a beautiful Miao vilage which was regarded as the national relics in 2002 due to it's old architetures. It's also Tony's village, Tony Chen Hualong grew up in the village, then went to colleage in Guiyang in 1995.
In the evening, we will invite a old man from the village to tell us many stories about the Miao's ancestors or weddding and Funeral ceremonies.              Stay at LocalFarmer's Homestay(Basic)

D3 Langde
  This morning we have our own free time, you can get up very late, you can get up very early to breath the clear air, you may join some agriculture actities if possible, you may help clean the village streets.
In the afternoon, we will see a performance of songs and dances. Upper Langde is famous for it's 12 road-blocking rice wine, Big Lusheng and bronze drum dance.
                   Stay at Local Farmer's Homestay(Basic)
D4 Langde
  Today we walk half day through many Miao villages. In the afternoon, we drive to visit two village on the Leigongshan Mountain.
                   Stay at Local Farmer'sHomestay (Basic)
D5Langde--Kaili
  Learn traditional skills with local artisians such as playing Lusheng and doing embroidery stitiches.
                   Stay in Kaili(4 star)
D6Kaili--Guiyang
  We drive to see batiks-making and paper-making, some hikings are availble for today, then drive to Guiyang.
                   Stay in Guiyang(4star).
D7 Guiyang-Next destination
  Drive to the airport and connect to morning flight to your next destination, finish the adventure Leishan Long Skirt Miao Region Eco-Hiking Tour