Tiao Hua Festival-

An Interesting Miao Festival in Guizhou,Southwest China

Dear friends, welcome to see my website at http://www.alongdiscovery.com

   This year I had a chance to explore a Miao festival on a hill top in Northwest Guizhou, it was a quite unusual and interesting festival.

This time I traveled by local bus. I rode on a local long distance bus to a county in the norwest of Guizhou, the trip was a little hard and the scenery was not really pretty as the scenery in Southeast Guizhou. After a few hours ride on the bus, I arrived the county, then tranfered to a local mini-van to stay overnight in a small town where I could find local mini-van to get to the festival ground.

 I got up very early on the second morning, then went to the festival ground by a local mini-van, the road was very bumpy and bad, I've been to many poor and farway regions in the province, but I think the road I'm going now is really bad, I passed some coal mines where the workers still mine coal. A very intersting thing happen in the van, several local people rode the van with me, and during the trip on the road, a young modern girl was playing music by her cell, so I could hear nice songs, aftern about 20 minutes, one guy behind me also played music by his cell, the music was very loud, louder than the girl's, it seems that there was a competition of them, that made so surprised. The region was so poor, but the local young people are very modern, you know my cell can not play music. The young mad had long hair and wore black sun glass, probably that's what he thinks cool. I can't imagine how they can become so mondern in such a poor and remote region. You know my father does not allow me to keep such long hair as that cool young man's.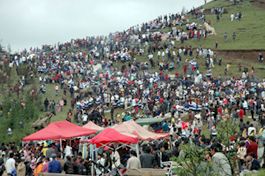 When arrival a little town, we found the road much worse, and the driver said he couldn't keep driving further, because the road was so sliperry. I saw many local people walk to the festival ground. There was still about 6kms from this little town to the festival ground, only one bus, some moto-cycles and several mini-vans driven by brave drivers could reach to the festival ground, these local drivers looked so brave, but I think it was dangerous by going there by moto-cycles and mini-vans, so I rode on the bus.
  I started the more adventure trip to the festival ground. The road looked obveriously much worse, I took several pictures, while close to the festival ground, the bus seemed like driving on a path to heaven. When passing a Miao village on the half hill, I saw several Miao women start to dress fesival dress, their houses are thached houses decorated with clay, the village looked very poor. Our bus stoped on the top hill. Then I followed local people to the festival ground by walking, the walking trip just about 5 minutes.
 The festival ground was on a hill top, it was still early, about 11am, local people began to arrive at the festival ground, many local vedors already prepared fried potatoes, beers, candies, meat on hot pots well. I walked to the hill top, the view was awesome, I saw many Miao women in colorful and beautiful dress climbe to the hill top from different directions, they walked through goat path and precipitous mountain ridges. A group of young girls attracted my attention, they stoped their trip while close to the festival ground and started to dress their beautiful and new festival dresses. I walked close to them and asked for taking pictures, they were very kind, I took many pictures for them. I followed them again to the festival ground, they walked through a very narrow and scaring ridge, violent wind was blowing, the ridge was so high and precipitous, at this monent I thought I was like walking on the path to heaven, also I thought of the hard immigration trip of our ancestors who had immigrated from the fertile regions of Dongtingfu Lake and Boyangfu Lake on the middle reach of the Changjiang river to this poor and remote rigion of Guizhou, it's just like they are walking now.
About 1 o'clock in the afternoon, more and more people arrived at the hill top. Boys in cool black glasss with long hair were busy looking for their lover partners. Some people were eating, some were drinking, some old women were singing folk songs and sobing, some were happpy, some were crying, some were getting warm from fire, some were selling horses and cows, some funny young men rode on motor to the hill top to show their super driving skill to girls and the audiance, an unusual picture appeared in my eyes, I couldn't help leting my feeling join the situation of the present moment. I felt that I was hungary, I paied just 2 Yuan to have a big blow of fried potatoes, I dipped with some chillies and drank a bottle of beer, the taste was excellent.

  I found I was the only tourist who had camera on the festival ground, every one looked at my big camera and showed interests. I was happy and sad, I was happy, because the local Miao's life was so simple, they were satified with such a poor and simple life, they could find happiness from such simple food, rice wine, beer, songs. I was also sad, because I'm Miao too, I think they were very poor, comparing to people in big cities, they live in a totally different world. At this moment, I think I couldn't write more, I couldn't imagine more, because my heart was crying, because my heart was happy, I only use my camera to show you what I saw on the festival ground.
I hope I will have another chance to see them again next year. I jus hope my brothers and my sisters will have a much better life in the future.